We endeavour to provide caring and thorough instruction.
Starting with the basics, you will be taught Shorin-ryu karate,
kobudo weapons and tuide (self-defence) step by step.

We also provide one-on-one instruction regularly,
catering for your needs and level of fitness.

You are always welcome to observe a class,
also a trial class is available anytime.

Free parking next to the dojo.

Adult classes: Mondays, Wednesday,
Fridays 8:00 - 9:30 pm




Please click here for the map.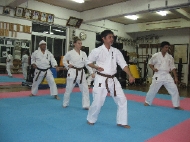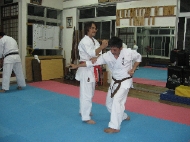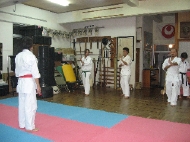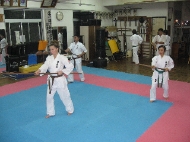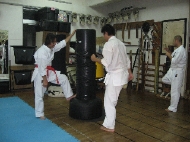 Okinawa Shorinryu Matsumura Seito Karate Kobudo Federation
The Honbu Dojo Kenshinkan

(Left in the photo)
Hanshi Fusei Kise

(Right in the photo)
Kaicho Isao Kise

Hanshi Fusei Kise commenced his karate training in 1947 at the age of
12 under his uncle Master Makabe, then became a student of Grand Master
Hohan Soken. Hanshi founded Okinawa Shorinryu Kenshinkan Karate Kobudo
Federation in 1977. He is one of the best known karate-ka both in Okinawa
and overseas.


Hanshi's son, Kaicho Isao Kise was taught by his father/Hanshi Fusei Kise
since he was 3 years old. He is in charge of the Honbu Dojo and dedicates
himself to teaching and developing both juniors and adults.