Nowadays, the most popular sports among children would be soccer and baseball.
Any sport has a positive impact on the development of young children. Kenshinkan
endeavours to facilitate healthy mind and body in children through teaching
karate and uniquely Okinawan art of self defence. It is unfortunate that the number
of crimes against children is on the rise and parents must be very nervous about
the safety of their children. On the other hand, many people may still think that karate
equals violence. However, it is rare to hear about people who started karate in their
childhood to have become delinquent. We would like to encourage the parents to
come to our Dojo and observe for themselves what we aim to achieve with children.
Kaicho (Head of the Dojo) himself takes the classes.

* We have a full cover of sports insurance.

* There is ample space for any visitors to observe the training sessions. Please feel free to drop in.

Juniors classes: Mondays, Wednesdays, Fridays 6:00 - 7:30 pm


Please click here for the map.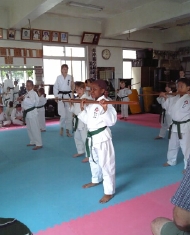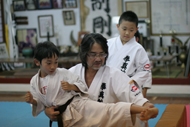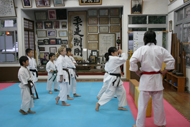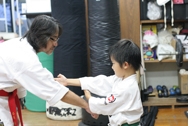 Okinawa Shorinryu Matsumura Seito Karate Kobudo Federation
The Honbu Dojo Kenshinkan

(Left in the photo)
Hanshi Fusei Kise

(Right in the photo)
Kaicho Isao Kise

Hanshi Fusei Kise commenced his karate training in 1947 at the age of
12 under his uncle Master Makabe, then became a student of Grand Master
Hohan Soken. Hanshi founded Okinawa Shorinryu Kenshinkan Karate Kobudo
Federation in 1977. He is one of the best known karate-ka both in Okinawa
and overseas.


Hanshi's son, Kaicho Isao Kise was taught by his father/Hanshi Fusei Kise
since he was 3 years old. He is in charge of the Honbu Dojo and dedicates
himself to teaching and developing both juniors and adults.